Whether it's the paper for our exclusive carrier bags, simple paper bags with twisted cords or flat handles, films, woven materials, boxes or crates, we work exclusively with certified, high-quality base materials.
Printing and finishing also meet the highest standards, because we want you to enjoy your product for a long time!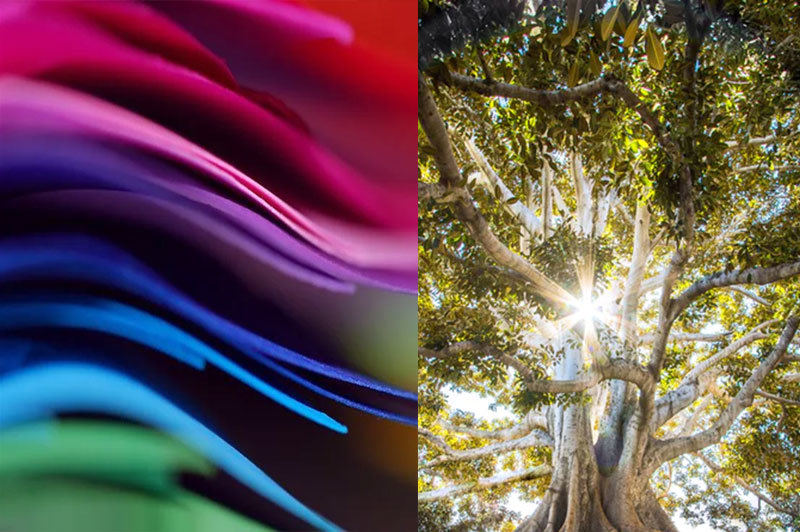 Carrier bags and packaging raw material paper
Paper
Wood, cellulose and recycled materials form the basis for all our paper carrier bags.
Of course, we also work with FSC papers to protect our environment.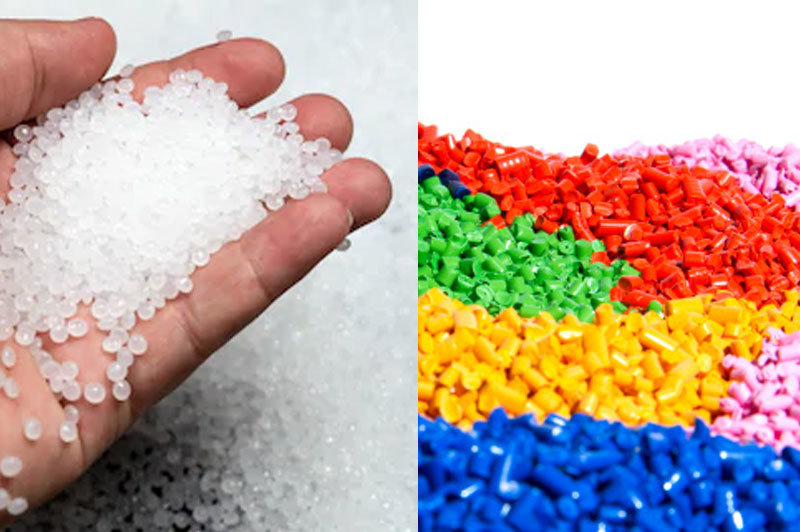 Carrier bags raw material granules
Foil
With our partners and production facilities, we process approx. 45,000 tonnes of blown and cast films annually. This gives us one of the largest capacities in Europe. The film is "born" in the extruder. The respective granulate for the flexible packaging only comes to life through the extrusion phase.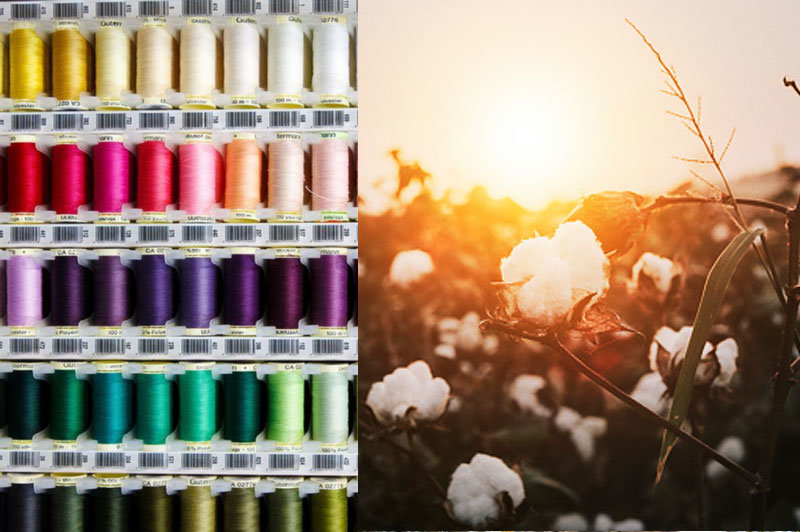 Tragetaschen Rohstoff Baumwolle
Paolo Sandro AG
Cotton
We use cotton with the FAIRTRADE seal to guarantee stable minimum prices, improved working conditions, a ban on exploitative child labour and environmentally friendly production methods, thus preserving the raw materials for the future.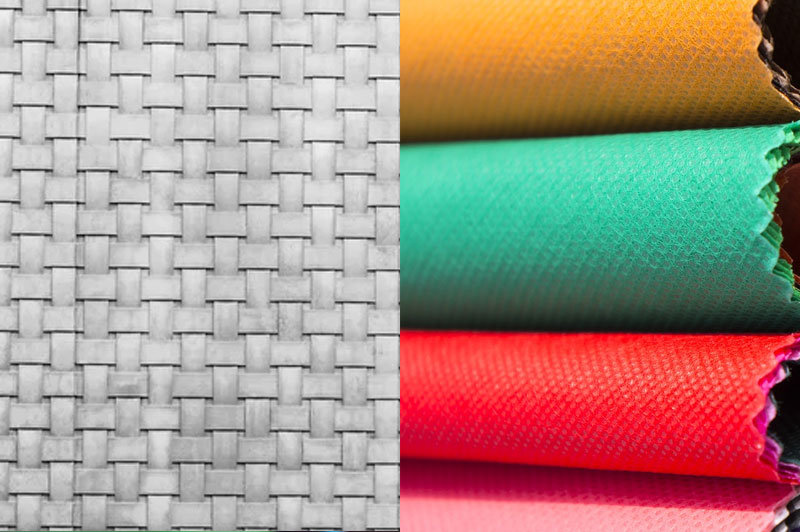 Tragetaschen Material Non Woven
Paolo Sandro AG
Woven / Non Woven
We process PP / PE as well as PET material from recycled bottles. In a complex process, the various materials are either woven for woven and R-PET or pressed for non-woven and stabilised and completed with printed lamination.

Offsetprinting
Offset printing is an indirect flat printing process. The offset printing process has become widespread in today's everyday life. Currently, an estimated 60% of all printed matter is produced using the offset printing process.
Offset printing distinguishes between sheet-fed and web offset. The offset printing process enables high-resolution printing with a high level of detail.
Flexo printing
We can print in foil printing up to a width of 1,600 mm and with up to 10 colours on 2 sides. Flexo printing is the ideal printing process for non-porous materials such as polyethylene or aluminium foil, as well as paper in various thicknesses.
Printing is usually done on webs, which are then either processed directly inline or in a second step to make the carrier bag.
Screen printing
Screen printing is a printing process in which the printing ink is printed through a fine-meshed fabric onto the material to be printed using a rubber squeegee.
In the bag sector, mainly cotton, jute, polyester or non-woven bags are printed with simple motifs using screen printing.
Gravure printing
Today, gravure printing is used for print jobs with long print runs and high-quality print resolutions.
The choice of printing process depends on various criteria.
A large market segment is packaging gravure, for example the production of folding boxes, Tetra Paks or film packaging with high-quality motifs.
PRINT FINISHING – TRUE TREASURES REVEAL THEMSELVES
To highlight, emphasise and set the scene for parts of your print, our exclusive paper carrier bags, paper carrier bags with twisted cord and cover, twisted paper cord bags, as well as boxes and exclusive boxes are available. Finishes in the form of hot foil stamping, relief or blind embossing and UV varnish are available.
Conjure up a masterpiece on your carrier bag or packaging with small finishes.

RELIEF EMBOSSING
Relief embossing is a finishing technique that allows you to give your design or logo a 3D effect.
The paper or cardboard is deformed with the help of an embossing tool. It looks noble and high-quality and you can also experience the refinement sensuously by feeling it.
HOT FOIL STAMPING
With this hot foil stamping, colour foils are applied to the paper by means of pressure and heat. This finish is often combined with hot foil and blind embossing. This allows you to achieve great effects. With hot foils you have a wide choice of colours, from metallic in gloss or matt to holograms or simple colour embossing.
UV VARNISH
UV varnish is based on solid particles that are bonded together. Neither water nor solvents are used in the processing. A roller is used to apply the synthetic resin particles as a varnish film to the printed product and they are bonded together by subsequent UV exposure to form a closed surface.



Quality and certificates
Our ultimate goal is your satisfaction. We achieve this goal through reliability, flexibility, competent advice and the highest product quality.We continuously achieve this product quality due to our constant quality controls and a quality management system that is specially adapted to each of our products.

QUALITY CONTROL
WE WORK WITH THE LATEST STANDARDS
– strictest quality characteristics
– research and development
– own cliché production
– cylinder engraving
– CTP equipment
– computer-controlled ink mixing systems
– most modern laboratory equipment
– ultra-modern printing equipment
– suitability and harmlessness testing
– environmental compatibility of all materials
WE HAVE OUR OWN TESTING LABORATORIES FOR
– gas chromatography
– solvent residues
– seal strength
– Tear strength and elongation
– EAN code readability
– Friction values
– optical density
– PH values
– water vapour permeability
– Material thickness and basis weight
AIB and BRC TESTS
Test criteria include:
– Adequacy in the food safety programme
– Pest control (GMP / HACCP)
– Engineering
– maintenance
– Cleaning
QUALITY MANAGEMENT
After each production step, we subject your product to intensive quality control.
PRINT
Control of the printing result regularly during the printing process, quantity control.

FILM LAMINATION
Checking for changes in the printing result, as well as correct lamination.

PUNCHING
Post-checking of the punching, welding and cutting result.

FINAL CONTROL
After folding, gluing and finishing, a final check is made of the overall result before packaging and dispatch.

CERTIFICATION
FSC
REACH
PECD
Blauer Engel
ISO 9001
BS OHSAS 18001
ISO 14001